2021 EMERGENCE OF BROOD X IN THE MID-ATLANTIC AREA
To see if Brood X will occur in your area, please see the Red Area (X) on the map below.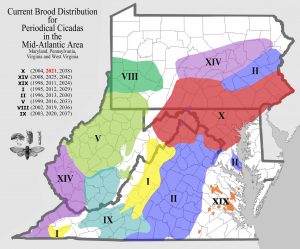 If you would like to help us map out the distribution of Brood X in 2021, please click here to report your cicada sighting. It is just as important to report "negative" sightings where you do not see or hear periodical cicadas. This will assist in defining the boundary for our 2021 distribution map.
2020 ANNUAL CICADA CALL SUMMARY FOR MARYLAND
2021 Cicada Reports so far this season:
Date:
2021-04-20 12:00:42
Name:
Jill Chapman Soyka
Location:
Round Hill
Description:
visible in holes in ground
Date:
2021-03-13 10:26:33
Name:
Beth A McMahon
Location:
Statesville
Description:
I'm seeing lots of holes in my yard that look like cicada holes to me.