Preliminary Mid-Atlantic periodical brood map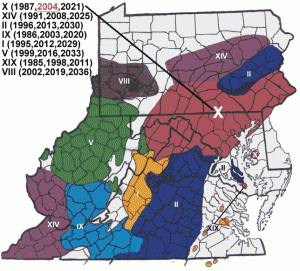 This map has been produced based on the results of an extensive search of Mid-Atlantic museum specimens and literature records as well as field research conducted to document the occurrences while the broods are emerging. I have found that the Periodical Cicada broods in the Mid-Atlantic states tend to fit together like puzzle pieces and while 2 broods may occur in the same county, I have not found them to overlap. Upon closer examination, many older records of overlap can be explained by 4-year or 1-year accelerations or decelerations of the existing brood in that area.
Since we have received many inquiries from Maryland, we are adding a more detailed Maryland Magicicada Brood Map.
The area that most people are interested in is Southern Maryland and the Eastern Shore. Saint Mary's, Calvert and Charles counties had Brood II emerge in 1996. Some areas of northern St. Mary's, northern Calvert and most of Charles county did not see the emergence of Brood II. But, based on all the historical, literature and museum specimens for the past 100 years, Brood X should not occur below a line from Fort Washington to Upper Marlboro to Harwood in Southern Maryland. On the Eastern Shore, Cecil and northern Kent counties will experience Brood X. All areas of the Eastern Shore below Kent county, expect for one area in Talbot county (There are records of an isolated pocket of Brood X in Talbot county, Maryland), will not experience the emergence of Brood X this year. As far as the historical records show, the areas in white do not have any periodical cicada broods. These areas will and do experience all the species of annual cicadas each summer however. As I map out each brood, I am discovering these gaps between broods that have never experienced periodical cicada emergences. This will be a topic for an upcoming paper.
Once the periodical cicadas emerge this month, negative records are also very important. Please report any areas in Maryland where you do not have periodical cicadas emerging. This will help document what is actually occurring out there. Thank you.